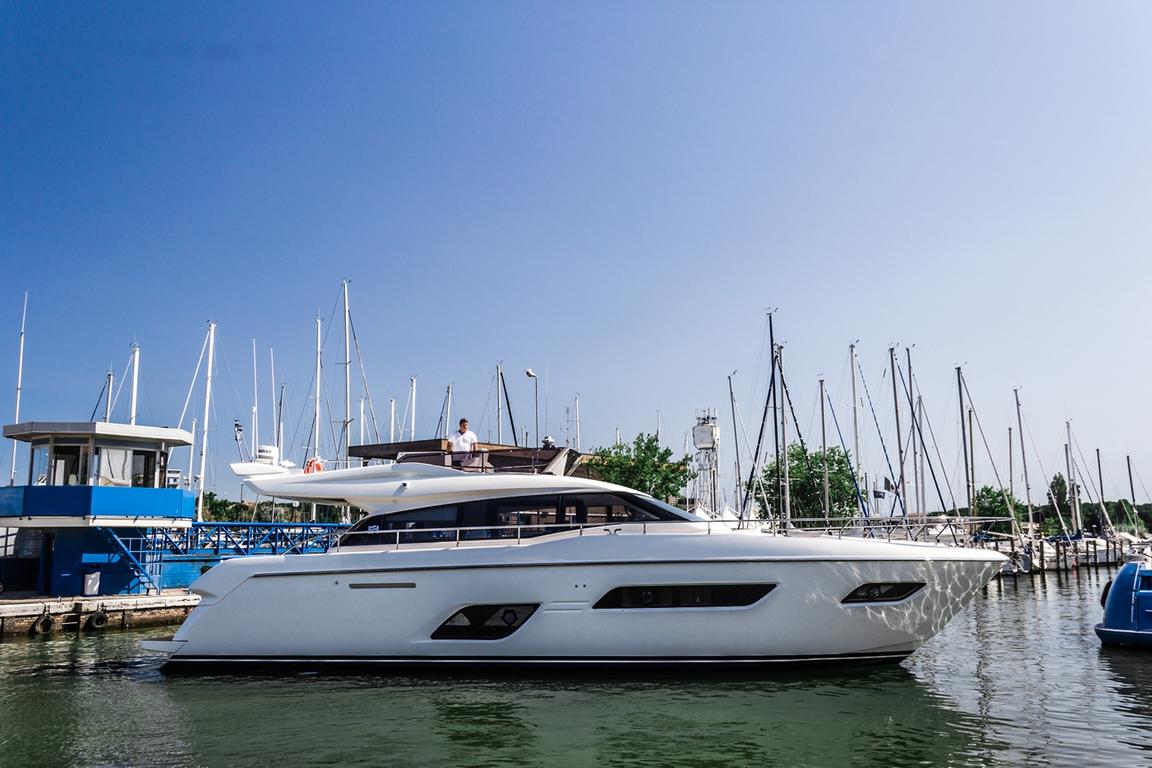 Thursday, August 6th, 2015.
The first Ferretti Yachts 550 has been launched and is proving to be a great success, even before its debut.
Cesenatico (Forlì-Cesena), August 6th, 2015 - Ferretti Group announced the launch of the first Ferretti Yachts 550, the new model of the Group's well-known brand, marking its return to the production of flybridge yachts under 60 feet in length.
Interior and exterior fit-out, as well as all technical testing - i.e. certification test approval by RINA performance tests, checking of all on-board equipment and systems - will be completed within the next few weeks.
"We are enthusiast to see the first Ferretti Yachts 550 put into the water", stated Stefano de Vivo, Ferretti Group's Chief Commercial Officer. "This new model is the result of accurate design and engineering work aimed at building a yacht which fully embodies our brand in terms of design, performance, safety, functionality, and reliability.
Our priority was to put on the market a top-quality, highly competitive yacht, in order to win over current and prospective owners of Ferretti Yachts, not only in our established markets, but also in the Asian Pacific area, where the brand is a synonymous with Italian boat-building excellence."
Although just set afloat, the new 55-footer by Ferretti Yachts already enjoys a great commercial success: three units have already been sold way ahead of its official world première at Cannes Yachting Festival 2015, slated in Côte d'Azur from next September 8th through 13th.This is further proof that the Ferretti Yachts 550 has already captured the international yachting market.
FERRETTI YACHTS 550
The profile of the boat features refined elegance and a sporty character, complemented by a large, aerodynamic flybridge. Three large glazed surfaces - the cabins' windows - can be found on both sides of the hull.
For her interior spaces and on-board equipment this yacht enjoys an equal standing with much larger yachts. Many outdoor relaxation areas have been conceived: the forward dinette area, furnished with facing sofas and a table; the large sunpad on the deckhouse; and the cockpit, featuring a large aft sofa and a table.
The Group's architects and designers have found very appealing décor solutions, adding elegance to all on-board ambiances and preserving the range's unique Made-in-Italy style and charm.
The areas below deck come various alternative layouts. The two 'traditional' ones include three cabins with either two or three heads. These options are for various types of owners, who can choose from the different layouts depending on the way they intend to use their yacht.
As usual, the 'Tai He Ban by Ferretti' special edition is also available, targeted in particular at the owners in the Asia Pacific region. In this version, some cabins can be replaced by areas devoted to business meetings or social events. 
The new Ferretti Yachts 550 will install two shaft drive Cummins QSM11 715 mhp, 2,500 rev/minute engines. 
While highly-performing, these small-sized and lower power engines will push the yacht to a maximum speed of 30 knots and a cruising speed of 26.5 knots, with ranges of 250 and 300 nautical miles, respectively. 
A bow thruster will be installed standard on the Ferretti Yachts 550, while a gyroscope stabilizing system can be installed upon request to ensure even more comfort at anchor and facilitate berthing maneuvers.